After years of a competition based on powerful computers, the NewTech industry is moving swiftly to cloud services. This revolution was mostly led by few trends that are sustainably spreading over the World. Among the numerous competitors that entered the market, few NewTech giants developed strong positions by integrating almost all the value chain of the industry. But paradoxically, network operators are not already providing mass-market cloud services whereas it might be a growth engine for them.
3 trends that sustained cloud expansion
Increasing need for storage
For years, entertainment contents have been shifting from physical to digital devices. This trend started in the early 2000s with music that became digitally available. Introducing the iPod and later the musical e-Shop iTunes, Apple was mostly responsible for this revolution. Since then, digital music sales have been increasing. So that in 2011, for the first time in the USA, digital music sales overtook physical media with 50.3% of the market.
Evolution of Worldwide physical and digital music sales (1)
Meanwhile, a few other kinds of entertainment contents became digital. Even with the introduction of new technologies such as Blue-ray discs, HD or 3D pictures, home video market is moving swiftly from physical discs to digital movies (including screaming). In 2011, digital movie market soared by 50%. At this rate it might overtake physical media in only few years.
Evolution of US physical and digital movie sales (2)
Books also became digital those last years with the increasing number of e-Reader available on the market. Amazon was the first main company to introduce this technology and says it sold more e-Book than printed books in the USA in 2011
(3)
, and even in England in Q1 2012
(4)
.
Even the video-game industry tried to introduce digital sales when Sony launched an e-Shop for its video game console PSP.
Then, with the increasing amount of digital contents available on the market,
users always need more storage capacity on their devices.
Increasing need for ubiquitous data on small devices
Meanwhile, devices became more mobile. Indeed mobile devices sales overtook fixed mostly thanks to the swift development of smartphones and tablets markets which respectively grew by 44%
(5)
and 256% in 2011
(6)
.
In 2011, mobile devices sales overtook PC (7)
With those mobile devices,
users can access their contents wherever they are.
But because of their small size, those
devices have limited storage capacities.
Average storage capacity per device (8)
Increasing power of mobile networks
Furthermore, the development of mobile devices was eased by the enhancement of mobile networks that became faster - from the GSM network to the brand new 4G available in the USA - and available Worldwide. This is a key success factor that enables mobile devices to spread swiftly, allowing voice, text messaging and now data to be shared over mobile networks. Thanks to current networks speed, users can easily access pictures, music and even movies directly on their mobile devices. This offsets the law storage capacity embedded on mobile devices.
According to an Informa/KPC study, more than 1 billion users over the World have now access to a 3G mobile network
(9)
. Wi-Fi networks are also wide spread and available in main cities, a few transportations and even for free in public locations. That means users can be connected almost wherever they are and then access all their entertainment contents stored online.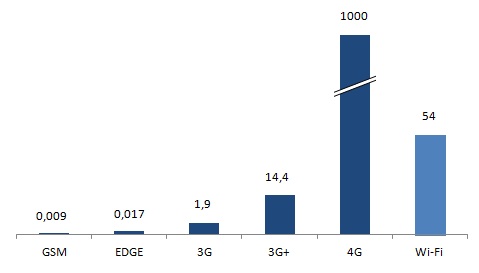 Theoretical speed per mobile network (Mo/s) (10)(11)
As users were purchasing more digital contents that they wanted to access anywhere on their mobile devices, cloud computing was developed to enable online storage and remote access to personal data.
3 kinds of cloud companies are competing on the market
In this fast-growing new market, several companies are competing to offer the best cloud service to mass-market users.
Pure-player companies
A few start-ups are dedicated to cloud services. They provide only one product that enables users to store their contents online and access it whatever their device is. The most famous one DropBox was founded in 2007 and now has 50+ million of users
(12)
. Box.com or SugarSync are some competitors that afford the same kind of tools. All kind of contents can be stored on these services and used through the right software or application requested: Adobe Reader to read pdf files, iTunes to listen to music, Kindle to read e-Book…
NewTech Stars
The main mass-market NewTech companies are also interested in this market and began to develop their own cloud service a few years ago. The first company to enter this market was Amazon, the online store that is well-known for selling books. Google entered the market with a few on-the-cloud softwares before opening its own cloud-based storage solution named "Google Drive". The software maker Microsoft has also its cloud service named "SkyDrive". So do the hardware manufacturer Apple with its "iCloud". All of them allow users to store their contents online wherever they purchased them and access them whatever their device is (PC, Smartphone, tablet …). However Apple provides a more integrated service that allows consumers to store digital contents they bought on iTunes automatically on the Cloud and access them easily on all their Apple devices.
Specific companies
Lastly a third kind of company is dealing with cloud services. Those are providing specific services based on only one kind of contents. For instance, Youtube allows users to upload and store their video online and watch all the videos available on its website. As well, Deezer or Spotify are offering music-focused cloud services that allow users to listen to all the songs that are available on their websites. Google Doc makes consumers use online Office-like softwares through the Google interface. And GaiKai introduced one of the first cloud-gaming service allowing users to play video-game without any game-console. Since, this company has been purchased by Sony for $380m
(13)
. By providing specific services those companies oblige consumers to use several services depending on which kind of entertainment contents they would like to purchase.
So far, network operators are the only kind of company involved in the NewTech industry that is not already working in this market.
A true opportunity for network operators
Whereas network operators are providing infrastructures that make cloud-services available, none of them has already launched its own mass-market cloud service.
Few tries
In France for instance, the most important network operator, Orange, has stakes in a few specific cloud companies. Orange has been a main stakeholder in Dailymotion – a video-focused cloud service – since its launch, and decided to purchase all the remaining stakes in June 2012
(14)
. Orange has also 11% of Deezer
(15)
– a musical streaming service – and integrates it in some of its mobile phone plans.
Meanwhile, its competitors introduced video-game cloud services through their internet set-top boxes: SFR now provides on-demand video games
(16)
and Bouygues Telecom released the first "cloud-gaming" solution (a video-game cloud service)
(17)
.
But none of them has a so-called cloud service available for mass-market consumers. As most of cloud services have been available for many years, this delay is an obvious weakness if they finally want to enter this market.
Vertical integration
Network operators are facing another challenge as most of NewTech Stars are integrating, step by step, all the vertical value chain. If all the four companies we quoted previously worked on separate markets, they all now compete on the same extended market: from devices to contents and cloud services. Amazon is well-known for selling books online but it quickly introduced its own device Kindle to read e-Book and even lately its own tablet (the Kindle Fire). This move was from contents selling to hardware manufacturing. Google and Microsoft had both the same kind of evolution as they went respectively from internet services and softwares to devices in association with mobile manufacturers (Google teamed with Samsung to release the Nexus family and Microsoft with Nokia to promote its home-made mobile OS). Apple had the opposite move from hardware to contents, as it first sold computers before introducing disruptive music-players (iPod) linked to its own e-Shop iTunes on which musical and video contents are available.
Value chain few years ago: the market is fragmented
Current value chain: vertical integration between content providing (content selling and cloud computing) and device manufacturing
Those companies introduced integrated universes in which contents and devices are linked together. Then, the cloud is a powerful solution to ease the development of such locked-services. And while they were vertically expanding, network operators became only pipe-providers. It means they were obliged to fund always more expensive mobile phones, and put up with increasing amount of data travelling on their networks. Actually, their power is decreasing as NewTech giants are expanding: instead of dealing with a lot of companies dedicated to each stage of the market, they have to face a few tremendous ones working all along the industry. For instance in the mobile phone industry, two main manufacturers, Apple and Samsung, are leading the market with more than 50% of the Smartphone market
(18)
. In the mobile OS industry two softwares, Apple's iOS and Google's Androïd, are also covering almost all the market with 82% of market share
(19)
.
Change in business-model
The emergence of those new dominant companies is happening in the context of a change in business-models, especially for contents selling. Indeed, content providers sell either the content or access to it. For instance, thanks to streaming services customers now pay for listening to a track or watching a movie for a limited time. Of course, cloud services ease this shift. By the way,
selling access to content is exactly network operators' core business.
Even their business-models match cloud-services' one
as they first invest lots of money in building a huge infrastructure, before selling plans that allow customers to use their network. Then even economically speaking, developing a cloud-service might make sense for network operators.
Regarding the service they could provide, this one could be wider than those currently available. Whereas each NewTech giant tries to build a locked environment including its contents and devices, a network operator's cloud service could allow users to bring together all their digital contents wherever they bought them. Then customers could really have a single place where to find all their data and access them whatever their device is. This would be
a significant improvement in term of use that might be valued by customers.
Lastly, this is most of all
an opportunity for network operators to secure their customers
by developing their own locked environment. Actually, allowing customers to save all their contents in a single place to which they can access only through their operator's network, might be a way to reduce churn. Indeed, moving all your digital contents from your previous operator's cloud to your new carrier's one could be a more important barrier than having to pay a penalty in case you would leave it before the end of your plan.
To conclude, the opportunity for a network operator to develop its own mass-market cloud service refers to the vertical integration dilemma: do network operators have to move up to contents to enhance their network value? As NewTech giants are spreading over the value chain, value remaining for network operators is dropping as they are the last separated player before the customers. But precisely, the direct relationship they have with customers is one of their strength they should try to protect. Then they could introduce a wide-improved-cloud tool that would provide a better service to customers, spread their business-model over a new kind of infrastructure and lock their customers thanks to a service diversification instead of an only-on-prices competition.
___
(1) Starkland
(2) DailyFinance
(3) LeFigaro.fr
(4) The Guardian
(5) Marketing-Webmobile.fr
(6) Ideas4Tomorrow
(8) Apple.fr
(9) MobiThinking.com
(10) Wikipedia
(11) Wikipedia
(12) Wikipedia
(13) Forbes
(14) LeMonde.fr
(15) ZdNet.fr
(16) LesEchos.fr
(17) Eco-Conscient.com
(19) LeMondeInformatique.fr